Dear Friends,
This is a Pastoral Care Team initiative for Young Working Adults. We urge all aged 21-40 (and are worshipping at Penang Trinity) to participate in this. Please see message from our Lay Leader.
Blessings,
Daniel
Chairman, Worship & Music
–
Dear Friends,
We are called to serve our Lord in every area of our lives, including of course, the workplace.
Paul says in Colossians 3:23-24 (NIV):
Whatever you do, work at it with all your heart, as working for the Lord, not for men, since you know that you will receive an inheritance from the Lord as a reward. It is the Lord Christ you are serving.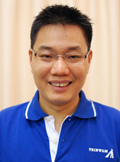 Most of us know this, but yet if we are to be honest with ourselves, serving the Lord and placing hope in our inheritance from Him, is often the very last thing on our minds in the workplace. We feel tugged apart by forces outside our control and weighed down by time and job pressures.
In Penang Trinity, we want to reclaim our calling and hope in Christ even in the workplace and our careers. We need to rediscover the grace of the Lord's provision and the reality of His desire for us to 'work at it with all your heart' but yet rejoicing in the hope of our 'inheritance from the Lord as a reward'.
You can help us start this journey of understanding and addressing our workplace challenges by filling up this survey form in a frank and honest manner. Your inputs are completely anonymous unless you specify you need prayer support and counselling.
Thank you for your thoughts and participation.
May of the God of Hope fill you with His Spirit and let His joy be your strength always.
Blessings,
Chong Jin
Lay Leader
Survey: https://docs.google.com/spreadsheet/viewform?formkey=dDVWNkZOSDIwZnA0b2VkRkZmeFdHenc6MQ#gid=0
Category: Announcements