by Lai Keat & Andrew Lim
I remember during Rev Jeya's term at Penang Trinity, he called me one afternoon to serve as liturgist and also communion steward. I was caught off-guard but responded "yes" as I saw the need. Since then, I have grown to love hymns and my hymn book which was given to me by a dear friend from Wesley Sibu in 1992 came out of the cold storage and became alive. Of late, every morning,  Connie and I sing a hymn or two. Hymns which we sing regularly – "My Hope Is Built On Nothing  Less", "Come Thou Fount of Blessing", "In The Garden and I Stand Amazed".
It is a blessing for me to be able to serve. Serving God is a question of the heart, our devotion to God. And it is just an extension of our personal worship. It is a challenge in the sense that sometimes I feel I have not "performed/sung" well.  Again it is a reminder that God looks at the heart. The hymns of late as been a source of strength and also healing in the areas of my weaknesses as hymns often declare and remind me of my dependence on God.
About Andrew serving as bass guitar player:
Andrew is not so much of a vocalist but when he grew into his teens, he picked up the bass guitar. We saw his interest in this area and supported him by buying the instrument and the amplifier system. This is a wholesome activity and especially for him to express himself. Andrew also said that he started serving as bass guitar player during Pastor Jeya's time.
This year's NECF prayer booklet is based on the theme of "Uniting the Generations". I believe that serving together is one way of uniting the family. Children grow up very fast into adult and it is the presence of the father in their lives that matters most. Identifying and supporting their interest as they serve is very power for their development and growth in God.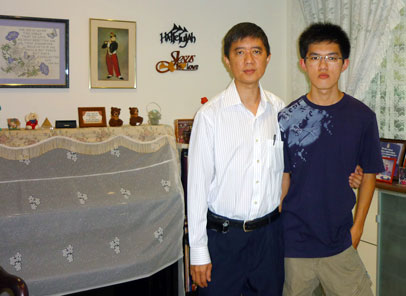 Andrew shares
What prompted you to join the team?
I've always liked music and wanted to play in a band for some time. What better way to serve God than with music?
What's the best part about serving together?
Not exactly sure about this. My dad serves in the first serviice i serve iin the second so there is not much interaction. But in my opinion a family serving together is a good thing.
What has your mom/dad done to encourage your serving on the team?
Well, they bought my instruments(bass guitar and amplifier). They also continually gave me support whenever i was on duty.
How do you feel about serving with your mom/dad?
Great!
About the Lim's
Lai Keat is married to Connie, they are blessed with 2 sons, David (Guitarist, Pianist) and Andrew (Bassist). Both Lai Keat and Connie serve on the LCEC.