Penang Trinity will be hosting this year's RBC Ministries Bible Conference again, featuring Rev Paul Baxendale.
This will be held at our main sanctuary on July 17, 2010, from 9:45 am to 4:00 pm.
Conference Program:
Session 1: Revelation 1 – One Like a Son of Man
Session 2: Revelation 4 – The throne in heaven
Lunch Break (please order lunch before session starts at 9:45 am)
Session 3: Revelation 5 –  The Lamb on the throne
Session 4: Revelation 6 & 7 – Where history is heading
Admission is Free, you are encouraged to car pool.
We are pleased to provide a new creche to meet the needs of young parents. Use of creche is on first come first serve basis.
About Rev Paul Baxendale
Raised in a Christian family in Ulverston, Cumbria, England, Paul Baxendale gave himself to Jesus in 1982.
After obtaining his degree in history from Leeds University in 1991, Paul worked briefly for a Christian book wholesaler before enrolling in Ridley Hall, Cambridge, Anglican Theological Seminary for his theological training.
Upon graduation, Paul served as Assistant Minister at St. Thomas' Church Kendal and in 2001, became minister of St. James Burton and Holy Trinity, Holme (near Kendal).
A keen sportsman, Paul is deeply involved in using sport to reach people with the Word of God. He serves as trustee of RBC Ministries Europe as well as SportsReach, an interdenominational ministry that uses sport as a means to reach people of all ages.
He is actively involved in various committees that encourage local churches in faithful biblical mission and ministry as well as the spreading of God's Word.
Married for 15 years, Paul and his wife Jane have 2 sons, Peter and Stephen. His interests are football, reading, music, cooking and spicy food.
Click on thumbnail for a full sized flyer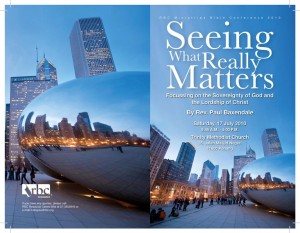 Category: Workshops