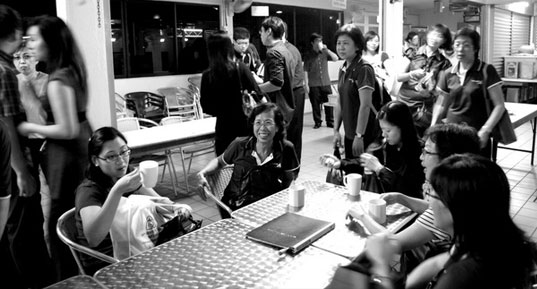 By Wong Soon Kee » CGMC Here We Come. What can you do for the Lord? SING!
8am Saturday 23 Jan 2010. The TMC 4-part choir of 21 choristers met in the church (the rest traveled by car). A comfortable bus driven by a very patient driver brought us right to the gate of the beautiful Canning Garden Methodist Church (CGMC) in Ipoh. Traffic was easy and many of us enjoyed the peaceful and relaxing ambience on arrival.
We received a warm welcome from pastor Jeya, members of CGMC and members of Grace Methodist Church. It was indeed a VIP welcome that started off with a 8 course lunch at the East Ocean restaurant and another 8 course dinner at the Mar Poh restaurant, thanks to the hospitality of the CGMC members.
We went to CGMC for sound check after lunch and then checked-in at the hotel. We met at 6pm at the hotel lobby and left to CGMC for the 8pm service. The church was fully occupied with the younger group of members on Saturday night. What a glorious way to spend Saturday night! Thank God our voices were enhanced by a good sound system.
It sounded so-o-o-o good.
[svgallery name="CGMC2010″]
6.45am Sunday 24 Jan 2010. We were already at the lobby preparing to set off to CGMC to worship the Lord in spiritual songs and afford an opportunity for Christian fellowship. That morning we were greeted by the more elderly group of church members. The church members were specially thrilled and inspired by the words in our songs. We had the opportunity to fellowship and exchange greetings with members of CGMC before we took our leave.
Apart from fulfilling the Christian service, many of us were secretly waiting to go to the ever famous Foh San Dim Sum restaurant. We had to queue up to wait for our tables. After some scrumptious variety of Dim Sum we adjourned to Yee Hup by popular demand. All of us left the shop with bags of Ipoh coffee, biscuits and other traditional goodies.
The choir was invited to Kuantan Wesley Church last year and Kampar Wesley previously, and the Ipoh trip was the third invitation for the TMC choir to reach out to churches outside Penang. At the end of the trip, someone asked Daniel, "Where is our next destination?"
We want to thank God for strength in Angeline Choo and Daniel Khoo to lead and train the choir. May God continue to bless them with the passion to serve in this area.
The TMC choir supports the church through presentation on Easter Sunday, Church Anniversary and Christmas Praise Service. We want to encourage more members to exalt the Name of the Lord Jesus both in words and in songs, deed and conduct, as individuals and as a group.
We meet on Wednesdays from 8pm to 10pm in the church sanctuary for choir practices.
"Let the Word of Christ dwell in you richly admonishing one another in psalms, hymns and spiritual songs, singing with gratitude in your hearts to the Lord." Col 3:16
Category: Outreach