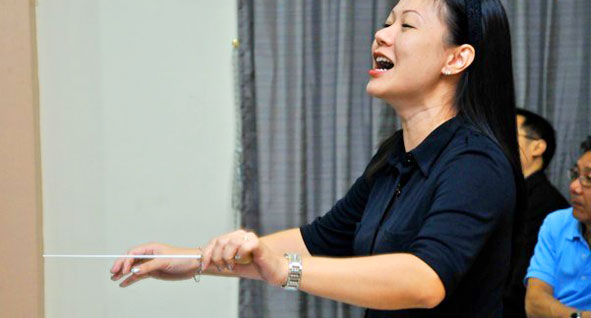 By Chu Kar Meng »
TMC Choir in Kuantan – What a privilege to be in His Majesty's Service
Trinity Methodist Church Penang choir had received an invitation to sing at Kuantan Wesley Methodist Church in conjunction with their 56th anniversary celebration. The invitation was extended to us many months before the actual occasion which fell on Saturday 19th September 2009. We sang a medley of songs that testify of God's faithfulness and expressed our heartfelt thankfulness to the One we worship and adore. Though not all choir members could commit to the 10 hour bus trip from Penang to Kuantan,  the 25 of us who went were blessed beyond measure. We not only enjoyed close fellowship on the bus getting to know each other better but were entertained by our most jovial and cordial guide, Matthew. Our bus driver was cautious and drove us safely to our destination.
We arrived at Kuantan Wesley on the day before their anniversary celebration and were treated to a sumptuous buffet dinner at the church premises. Our hosts were most friendly and made us feel at home.  After dinner, we joined in a time of praise and worship and called it a day. Tired from the bus journey, we retired to bed early.
The next morning we had our rehearsal followed by lunch at "Ho Jiak" where all the local offerings were mouth watering. Our hosts, Jeff and Steven, accompanied us on the bus and brought us sight seeing in the afternoon to Teluk Cempadak where we went "goo goo gah gah" at the breathtaking scenery and beautiful beach. We were awestruck and spent some time there to appreciate God's marvelous creation. Returning to the hotel, we rested and freshened up for the singspiration in the evening.
The Kuantan Wesley's 56th anniversary celebration commenced with a buffet dinner. We dared not eat too much less we burped when we had to sing later. The entire service was led by our choir who opened with the appropriate anthem, "I sing praises" followed by a medley of choruses. Interspersed between were a solo, duet and quartet and the choir sounded like a roaring symphony as we sang our hearts out to thank our God who has faithfully guided the church for the last 56 years. The ending song, John Wesley's Covenant Prayer, was most apt as the choir led the congregation to rededicate our lives anew to God who never fails us. Pastor Joshua Kong thanked the choir and ushered the congregation to give a standing ovation and give all glory to God. What a celebration that was.
[svgallery name="KUANTAN2009″]
The next day, we joined them in their  Sunday morning worship service and sang once more before we adjourned for a lunch of nasi dagang hosted by the church. After many handshakes and hugs and flying kisses, we boarded our bus for the return journey home. We spent a night at Wisma Methodist in Kuala Lumpur and went for the famous street food of the Petaling Street area. The shopaholics proposed a trip to Mid Valley Mall and all of us followed. After shopping and lunch, with our pockets emptied, we boarded the bus for the long drive home to Penang.
We realize that we have been in Kuantan to bless another sister church and to encourage our brethren in the faith. We count it a privilege to be part of the worship and music ministry and to be in His Majesty's service. We also have to thank our Worship Chairman, Daniel Khoo and Choir Conductor, Angeline Choo for their untiring efforts in shaping the choir for the occasion.
Category: Outreach