By Grace Melody Moo »
In authentic Korean style, seven gifted musicians, six golden voices and a Pastor threw contemporary Praise songs, Spirit-inspired music and a life-impacting sermon together into the blender for the night that touched many hearts, stirred believers and pre-believers into a growing relationship with God and crossed cultural boundaries to call youths unto a zealous generation for Him. Held at Trinity Methodist Church Penang on the 20th June 2009, and graced by an even bigger crowd of people than that of last year, it was a momentous Saturday night concert of sweet simplicity that drew both young and old to exalt the Sovereign, King of kings, Lord of lords – Jesus Christ.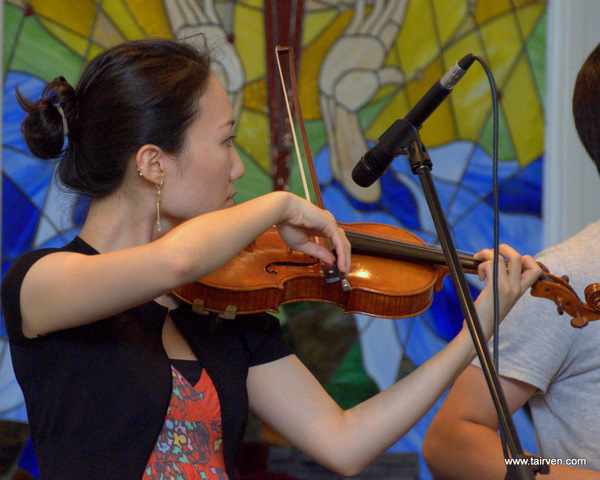 To start the evening off, three youths from the 1st Penang Company Boys Brigade marched down the Sanctuary aisle, stomping out drum beats, which later progressed to batters of more complex patterns with unmatched exuberance. The breathtaking opening performance was followed by a warm welcome by Daniel Khoo and the Opening Prayer led by Rev Woo Kit Sang. Rev Woo introduced the Korean Band, I Believe In God (IBIG) and their Team Leader – Mr. Paul Beck to the thrilled crowd. IBIG then led the congregation in a staple of familiar praise-and-worship songs, playing and singing their hearts out for the Lord with conviction. Being inspired by the band's passion, the audience eagerly worshipped God in adoration, clapping their hands in time to the catchy beats, as well as lifting them up, to implore for a fall of spiritual rain. Many were enthralled with the presence of God even though it was their first time in church and captivated by the songs – which sang of His grace, mercy and unfailing love.
Several guests who submitted their Feedback Forms to the Ushers promptly, received a complimentary "Surprise Gift CD" through a series of random drawings by Rev Woo. After a brief intermission,,Pastor Daniel Kim, penetrated the hearts of his listeners with a powerful and practical sermon on living a purposeful life. Energetically sharing his testimony of how he came into a relationship with God, he urged those who lined the pews to ponder on a few soul-searching questions, particularly the most basic question everyone faces in life, "Why am I here?" or "What is the purpose of my being?" With detailed yet simple explanations, he drove home the fact that God made us for His glory. It was also a timely reminder to us that we ought to 'do everything for the glory of God' – whether in our work, relationships, church work or daily activities. (1 Corinthians 10:31) The defining moment of the event was when Pastor Daniel Kim issued three invitations: Firstly, to those who wanted to accept Jesus Christ as Lord and Savior, secondly, to those who wanted to rededicate their lives to God, and last but not least, to Christians who desired to dedicate their service to Him. It was a joyful yet solemn occasion, as many responded to all three invitations, some with tears – and later walked out to the front for prayer.
[svgallery name="KPRAISE2009″]
The evening concluded with a few more songs by IBIG, and heart-warming fellowship amongst the people present. The youths also took the opportunity to take a group picture with the IBIG team and Pastor Daniel! We went home, challenged and more determined to seek God's face, Kingdom and eternal purposes, than we ever did before. The Korean Praise 2009 was indeed an event that had blessed us and brought us a fresh insight on living lives of purpose and worship unto the Lord. It had also inaugurated renewal of spiritual climate for some and sowed precious seeds in the hearts of many that would potentially come to know Jesus as their Lord and Savior in the future. All to the honor and glory of the Father, Son and Holy Spirit, Amen.
Category: Concerts