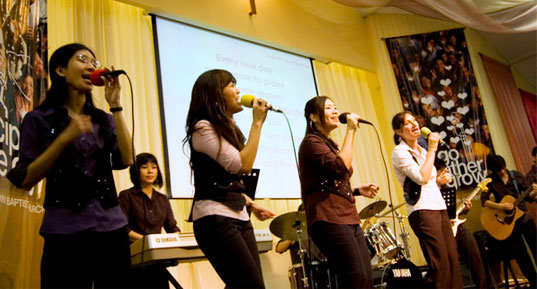 We were blessed to have SAND minister to us through songs on Aug 9, 2009! The "Only One Lifetime Album" was also promoted at the end of the service. For more information about SAND, log on to www.masterpiecemusic.com.my
SAND's new album "Only One Lifetime" marks another breakthrough into the international gospel music scene as two of the album's songs, "Reign Forever" and "I Surrender All", were included in "Heart of Worship 8" by Whole World Music, UK.
This album is the culmination of songs that were birthed after the 40-Day Nationwide Prayer and Fast in Malaysia and takes a shift from individual expressions of worship to congregational praise.
The recording was done in Penang, the United Kingdom and the United States of America, while the mixing and mastering were done locally by Nick Lee from The Ark Studios. With the help from arrangers like Andy Green from Kingsway Music, UK and singers like Brent Miller and Ingrid DuMosch, this album is bound to break new grounds in Malaysian gospel music.
"Lord Hear Our Prayer" is a prayerful number and definitely appropriate for Malaysia at such a time like this. Worshipping the Lord with "Extravagant" makes you want to break into a dance of praise while "Only One Lifetime", "Reign Forever" and "I Surrender All" are powerful and reflective songs of worship.
By the grace of God, this album surpassed the standards of previous ones and marks another milestone for SAND.
[svgallery name="SAND2009″]
Category: Concerts